GUEST CHEFS AT SARUNI
Special guest Italian chefs Cristiana Ariotto and Gianni Minori have been busy this July & August training and inspiring our Saruni Samburu, Saruni Mara and Saruni Wild kitchen teams. Far from their native 'La Sosta' Restaurant & Lodgings in beautiful Swellendam, South Africa, we ask them below about their experience to date:
Q. What is your background and what inspired you to come to Kenya?
A. "Our previous Italian life or our current South African one? We used to live in Milan. I [Cristiana] used to work in a bank, and Gianni had his own business. So you see, we come from a non-chef background. I did not attend any chef school. However, we decided to open a restaurant in South Africa. It is passion for both Africa and cuisine that led us to open La Sosta restaurant in Swellendam. Of course just before heading to the 'rainbow nation' I took some courses in order to refine what skills I had. At the end I just followed what my passion and instincts were telling me, and the result is that 'La Sosta' became a fine dining restaurant, even if at the beginning the plans were for a rustic restaurant.
What inspired us to come to Kenya? Let's say that the idea of travelling to Kenya on safari has always been at the top of our wish list. Meeting Riccardo & Elizabeth in our restaurant was an opportunity to both scout the amazing Kenyan wildlife and to enrich our experience by helping and organising what was happening in the lodge kitchen. We were very keen to be able to help here."
Q. How did this safari cuisine adventure begin?
A. "The first thing that we noticed was a good basic knowledge of Italian cuisine and typical dishes. Considering that the main chef in Samburu is self-taught, we were quite impressed. This adventure began with lots of potential in our hands to play with. However, we immediately noticed that in Samburu they were not fully using their potential, and maybe were afraid of explore their own creativity. Of course it is not easy, since Italian cuisine is not part of their background. We encouraged them to be brave and we immediately noticed the change".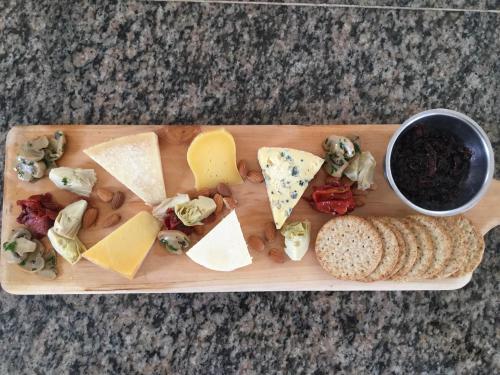 Q. What has been most surprising about the food and cooking here at Saruni?
A. "We were really surprised by the solid background of the kitchen team. Another thing that really surprised me was the quality of the recipes currently in use… really high quality. For example, in Saruni Wild we had one of the best risotto dishes we have ever had outside Italy. And honestly I find risotto the most complicated Italian dish to cook. I was also surprised by some pasta dishes, executed very well".
Q. What did you think was going to be the biggest challenge?
A. "Before coming to Saruni, we thought that we had to train mostly from scratch. Not being trainers, we were worried about how difficult it could be to bring some useful knowledge to the staff, but we were pleasantly surprised".
Q. And what happened after arriving?
A. "At the beginning it was a bit tough to 'connect' with the Samburu staff. Add the fact that we are in high season, and that an overload of work had badly influenced the time we could dedicate to create new recipes. In fact there were never less than 16 guests, many with personalized menus: different dietary requirements, children who wanted different dishes etc. Sometimes guests on safari think they are in a normal restaurant, but working and cooking in the bush is very different and more difficult".
Q. Were you concerned about the cultural and language barriers?

A. "Not at all. From a language point of view, we already knew that here in Kenya, English is one of the most spoken language. From the cultural point of view, we live in Africa as well".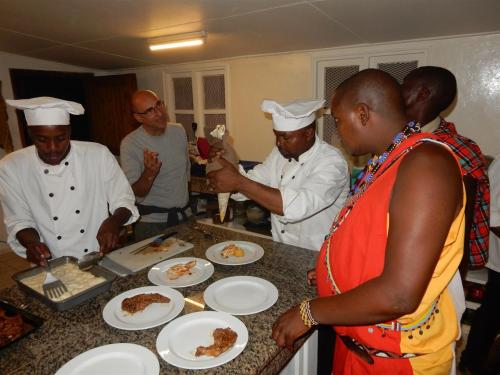 Q. What have been a few highlights of your stay at Saruni Samburu?
A. "We will never forget the astonishing view from Saruni Samburu. An omnipresent view, from the rooms to the briefing area. Staff and guides were simply amazing. Another thing we will never forget is sharing our daily adventures with Ugali, the resident leopard".
Q. What have been the highlights of your stay at Saruni Mara?
A. "Saruni Mara is simply the Africa that you dream about. The Africa of Karen Blixen Africa. The Lion King Africa. The organization of the kitchen and the lodge are amazing. Especially if you think that we are in the middle of nowhere here… [The interview has been done in Saruni Mara]. We will never forget the sincere smiles of the exceptional and unique staff, from the kitchen to the waiters and guides".
Q. How would you describe the food at Saruni / Saruni cuisine – from the ingredients to the preparation to the presentation?
A. "We would define Saruni's cuisine as a high quality Italian cuisine despite the few available ingredients in this tough environment. However the Italian ingredients are all high quality. It is an Italian-inspired cuisine with sometimes a Kenyan touch, that makes a safari adventure even a gastronomic adventure."
Q. How has this culinary experience been different from anything you have done before?
A. From the cultural point of view it has been really interesting to discover similarities and differences in cuisine interpretation. We are also really happy about the super potential here. It was really satisfying to transfer our gastronomic knowledge and culture to these people, who are not Italian. A mutual enrichment useful for the future, both for us and Saruni cuisine staff.
A BIG thanks to both Cristiana and Gianni for your hard work, hope to see you next year!
NOTE: 'La Sosta' was voted the 'Best Italian Restaurant in South Africa' award in the Eat Out Mercedes-Benz Restaurant Awards.