SARUNI'S OTHER PROPERTIES IN KENYA
We are proud to be able to offer the ultimate safari experience with guests staying at our lodges and camps across Kenya, as introduced below: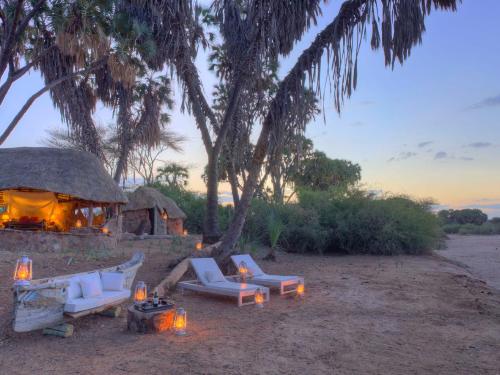 Saruni Rhino
In February 2017, Saruni was proud to expand its luxury collection of lodges and tented camps with the opening of 'Saruni Rhino'. Located in Sera Community Conservancy, in the wild, undiscovered northern frontier of Kenya, the camp is around 1.5 driving hours from our Saruni Samburu lodge in nearby Kalama Conservancy. Saruni Rhino offers the first rhino tracking experience in East Africa: an amazing walking safari that provides a uniquely thrilling adventure, but also allows our guests to actively contribute to the protection of this iconic species.
Comprised of two elegant 'bandas' (open stone cottages, previously known as 'Kauro Guesthouse') sleeping 4-6 initially and a main 'mess' cottage for dining and relaxing, Saruni Rhino is nestled amidst swaying doum palms dotted along a dry river bed (the Kauro 'lugga', in the heart of the conservancy) with sweeping views of a nearby waterhole and dramatic landscape so typical of the north. The waterhole is a popular watering stop-off for a diverse range of wildlife: elephant, impala, birdlife, hyena, oryx, Grevy's zebra and much more, making it great 'bush TV' from the comfort of your cottage's sandy verandah at any time. The dry river bed proves the quintessential torch-lit bush dinner location under the vast African skies. For more information, visit www.sarunirhinotracking.com (opened February 2017).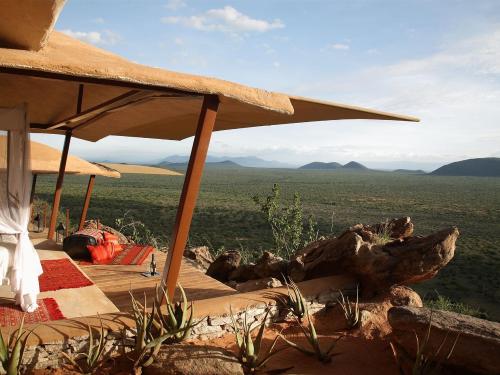 Saruni Samburu's six luxury villas are open and spacious, heralding spectacular views over Kenya's Northern Frontier District and Mount Kenya. The lodge is celebrated for its innovative, eco-chic design as well as its Italian-inspired cuisine. Guests can enjoy the vast panoramas from the dining and lounge area, the two infinity pools and spa. The warm hospitality makes for an intimate and exceptional experience. Saruni Samburu is the only lodge in Kalama Conservancy, bordering Samburu National Reserve, with over 200,000 acres of unspoiled wilderness teeming with wildlife to explore exclusively. Guided by Samburu warriors passionate about their land and culture, you learn first-hand about their fascinating customs and gain ancient, local knowledge about the land and animals – a truly authentic safari experience. For more information, please visit www.sarunisamburu.com
(opened 2008).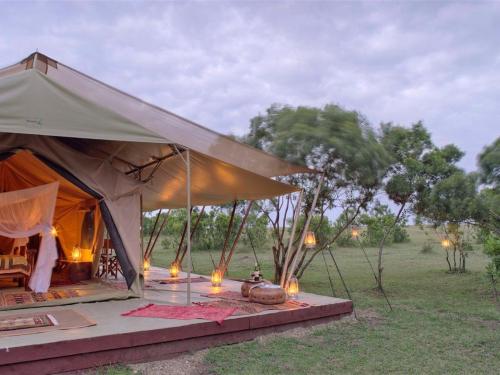 Saruni Wild is a tented camp elegantly and comfortably furnished with all the necessary luxuries of a wild yet classic safari – hot water showers, flushing loos, open safari vehicles, Italian-inspired cuisine and exceptional service. The camp is located right in the heart of the Mara plains in a forest populated by abundant 'plains game' and right in front of the migration hotspots. Enjoy uninterrupted views from your private veranda, fire-lit meals under the vast African sky, guided game drives in complete seclusion led by Maasai warriors. Saruni Wild's prime location is ideal for game-viewing, bird-watching, star-gazing and for being immersed in nature - a truly unique and life-enriching safari experience of the remarkable Masai Mara, off the beaten tracks. For more information, please visit www.saruniwild.com (opened 2015).
Saruni Mara
is the only small, boutique lodge in the Mara, with five elegant cottages, one family villa and one private villa. The beautiful rooms are each decorated to a unique theme with a luxurious, classic safari feel. The lodge is nestled in a secluded valley in the heart of the most exciting wilderness in Africa: Mara North Conservancy – an exclusive, private wildlife concession bordering the world-renowned Masai Mara National Reserve. Encounter Africa's Big Five and the most remarkable natural spectacle on Earth, the Great Migration. Enjoy the Italian-inspired cuisine, exceptional service and being immersed in nature from your private verandah, the Wellbeing Space and the open lounge and dining area. Masai warriors guide you throughout, sharing their ancient wisdom of the area and animals and their fascinating way of life - a truly life-enriching safari experience. For more information, please visit
www.sarunimara.com
(opened 2003).